Capacity: 16 GB
Application:Mobile phone, Smartphone, Tablet, etc
Speed Class: Grade 1, Class 10
Capture all of life's precious moments securely with high-performing and stylish memory cards
This Ultra High Speed memory card is UHS-1 enabled, which means it captures photos and video two times faster than your typical microSD
Transfer 360 photos per minute. With a transfer speed of up to 48 MB per second, you can spend less time transferring memories, and more time making them
Save up to 37,270 photos, 1,110 minutes of video, and 14,990 songs
Capture the moments that matter as vividly as you remember them. Shoot beautiful, Full HD videos that keep each memory safe and sound – and fresh as the day it happened
Survives up to 24 hours in seawater
Endures temperatures from -25 Degree to 85 Degree Celsius
Protects your precious data from damage caused by airport X-ray machines
Resists up to 13 times the magnetic force of home theatre speakers
SUPC: SDL465901616
Overview
Samsung brings you a 16 GB memory card which you can use to expand the memory of your mobile phones, smartphones, cameras and more. This MicroSDHC card is UHS-1 enabled and captures photos and videos faster than most typical MicroSD cards. Designed for maximising the performance of your concerned device, it records full HD videos without dropouts. It is also waterproof, shockproof, temperature proof and extremely reliable to be used for a very long time. You can shop online for Samsung 16GB MicroSDHC Card at a pocket friendly price on Snapdeal.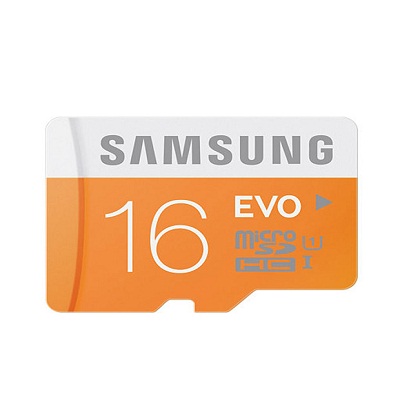 Memory Storage Capacity
Samsung 16GB MicroSDHC Card has 16GB capacity and is capable of accommodating 7490 songs, up to 37,270 photos and 550 minutes of HD video and 1,110 minutes of normal video. Due to its Class 10 speed rating, you will also be able to record full HD videos without dropouts.
Speed Rating
With Class 10 speed and Grade 1, this memory card from Samsung is designed for superfast performance and storing large amount of data without any hassle. With a maximum transfer speed of up to 48MB per second, it will allow you to transfer 360 photos a minute that is almost two times faster in comparison to typical memory cards.
Design and Durability
Samsung 16GB MicroSDHC Card has waterproof design and can even survive up to 24 hours in sea water without getting damaged. It will also easily withstand extreme weather conditions and can endure a temperature range of -25° to 85° Celsius. In order to preserve your data for various scanners and X-ray machines at airports, this EVO class MicroSDHC card is also made completely X-ray proof and can withstand magnetic force up to 13 times of what emits from home theater speakers. The company also offers a 120 month warranty on this product.
Compatible Devices
This card is compatible with all devices that support MicroSDHC cards. Measuring 15 x 11 x 1 (mm), it can be easily inserted into the MicroSDHC card slot of any device that supports this amount of expandable memory. You can use it with smartphones, tablets, full HD camcorders and also DSLR cameras.